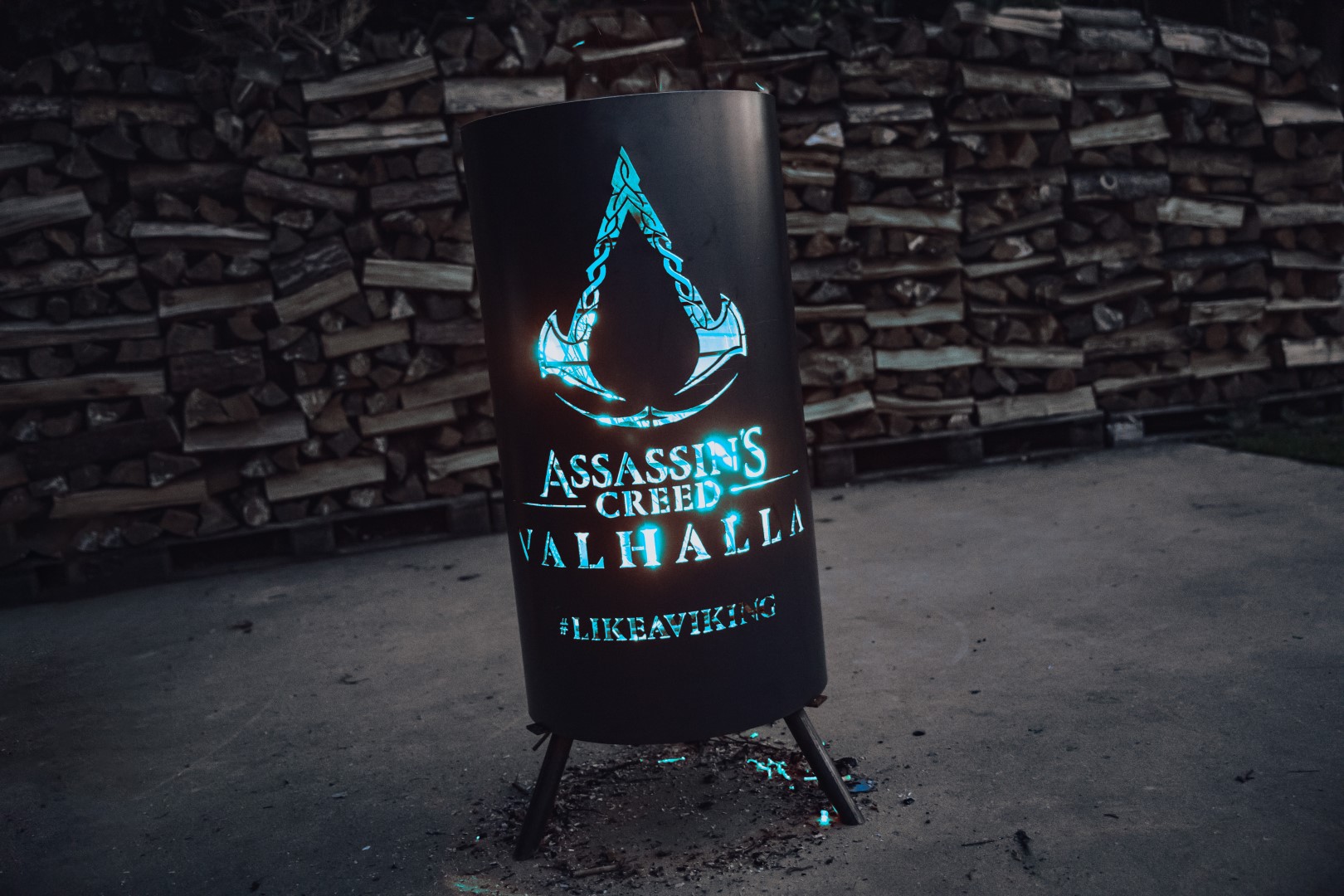 OFFICIAL RULES: Assassin's Creed Valhalla Fire Pit Contest
VOID WHERE PROHIBITED BY LAW OR REGULATION. PARTICIPANTS MUST BE 18 OR OLDER AT THE TIME OF ENTRY.
This Competition is in no way sponsored, endorsed or administered by, or associated with Facebook, Twitter YouTube or any other social media platform. You are providing your information to Ubisoft Inc. and not to Facebook, Twitter, YouTube or other social media platform. The information you provide will only be used in accordance with the Ubisoft privacy policy which may be viewed at https://legal.ubi.com/privacypolicy .
1. ELIGIBILITY: Assassin's Creed Valhalla Fire Pit Contest (the "Competition") is open only to legal residents of the Netherlands, Belgium and Luxembourg who are at least 18 years old at the time of entry. Employees, officers, and directors of Sponsor and its affiliated companies, subsidiaries, licensees, franchisees, distributors, dealers, sales representatives, advertising and promotion agencies, and any and all other companies associated with the Competition (collectively, the "Competition Entities"), and each of their immediate families (i.e., parents, spouse, siblings, children, grandparents, step parents, stepchildren and step siblings, and their respective spouses, and those living in the same household, whether or not related) are not eligible to participate. Subject to all applicable federal, state, provincial, municipal, territorial and local laws, directives and regulations. Void outside of the Netherlands, Belgium and Luxembourg and where prohibited.
2. SPONSOR: Ubisoft Nederland located at Rijnzathe 7 te De Meern, Netherlands.
3. COMPETITION PERIOD: The Competition will begin 12:00 CEST on 1 September 2020 and will end at 23:59 CEST on 16 November 2020
4. HOW TO ENTER:
To enter the Competition, please follow the steps below. Specific dates and times subject to change:
Enter the Competition by:
• Pre-order Assassin's Creed Valhalla, Standard, Gold, Ultimate or Collector Edition on any platform on the Ubisoft Store until 16 November 2020. Each Edition is valid for this contest.
• Sign up on and enter all required information during competition period: https://store.ubi.com/assassins-creed-valhalla-contest.html
• For your Entry to be considered as valid, your pre-order must be valid. If you have cancelled your pre-order or if your pre-order has been cancelled for any reason (for example: fraud, invalid payment method) your Entry will be excluded from the Prize drawing.
LIMIT: No other methods of entry will be accepted. Only one entry per person will be accepted. Entry in the Competition does not constitute entry into any other promotion, competition. By participating in the Competition, each Entrant, and Entrant's parent/legal guardian, if Entrant is less than the age of majority in his/her country of primary residence, (collectively "Entrant" "Participant" "Player" or "You") unconditionally accepts and agrees to comply with and abide by these official rules and the decisions of Ubisoft Nederland located at Rijnzathe 7 te De Meern, Netherlands (the "Sponsor"), whose decisions shall be final and legally binding in all respects.
All entries are subject to verification by the Sponsor. Entries that do not meet the requirements specified below or otherwise do not comply with the Official Rules herein may be disqualified. Any attempted form of entry other than as described herein is void. Sponsor, in accordance with the Competition rules and regulations, will determine in its sole discretion, what constitutes a valid entry.
5. Prohibited Actions
During the Competition, Ubisoft may, at its own discretion warn, disqualify or ban any Entrant, without prejudice for the Entrant, that notably (without limitation):
o Registers to the Competition with multiple accounts;
o Colludes with other Entrants to create an unfair advantage;
o Uses any kind of cheats or hack;
o Does not comply in full with the current Official Rules;
o Has a behavior which, in Sponsor's estimation, is unlawful, harmful, abusive, harassing, threatening, malicious, defamatory, libelous, untruthful, pornographic, pedophilic, obscene, vulgar, racist, xenophobic, liable to incite hatred, sexually explicit, violent, contrary to morality or is in any other way unacceptable.

6. PRIZE DRAWING:
Selection of Winners by Sponsor
On 17 November 2020 Sponsor will randomly draw two (2) winners, among all valid Entries meeting the Competition requirements.
7. PRIZES: Only the Prizes listed below will be awarded in this Competition.
Grand Prize:
One (1) Assassin's Creed Valhalla Fire Pit for each Winner.
Estimated Retail value ("ERV"): €600,-
TOTAL ERV FOR ALL PRIZES AWARDED UNDER THE COMPETITION: €1200,-
All taxes on the Prizes are the winners' sole responsibility. Prizes are not transferable or redeemable for cash. Sponsor reserves the right to make equivalent substitutions as necessary, due to circumstances not under its control. Prizes include shipping and handling costs to the Winners' residence, where applicable. Odds of winning a Prize depend on the total number of eligible entries received. Winners may not transfer Prize to a third party. The Sponsor will not replace any lost or stolen Prize.
Prizes are provided "as is". Entrants acknowledge that Competition Entities have neither made nor are in any manner responsible or liable for any warranty, representation or guarantee, express or implied, in fact or in law, relative to the Prizes.
By participating in the Competition, the winners acknowledges that Competition Entities have not and will not obtain or provide insurance of any kind relating to the Prizes and that each winner will be responsible for obtaining and paying for any life, travel, car, accident, property or other form of insurance relating to the Prizes.
8. WINNER NOTIFICATION: Winners will be notified by e-mail, sent to the e-mail address provided on the entry form within 15 business days from the Grand Prize drawing. Sponsor shall have no liability for any potential Prize winner notification that is lost, intercepted or not received by any potential Prize winner for any reason. In the event the Winner is a minor, his or her parent or legal guardian must sign and return the documents described herein as necessary to claim a Prize, on behalf of the winning minor
In the event of a dispute regarding who submitted an entry, the entry will be deemed submitted by the authorized account holder of the e-mail account specified in the entry or. "Authorized account holder" is defined as the natural person who is assigned to an e-mail address by an Internet access provider, online service provider, or other organization (e.g., business, educational institution, etc.) that is responsible for assigning e-mail addresses for the domain associated with the submitted e-mail address.
Failure to complete and return the documents in the time noted, or if prize notification is undeliverable, will result in disqualification and an alternate potential winner will be selected and notified, time permitting.
9. ENTRANT REPRESENTATIONS, WARRANTIES AND INDEMNIFICATION: Entrant represents and warrants to Sponsor that his/her entry is (i) completely the original work of the Entrant and was written or filmed solely by the Entrant, (ii) not copied from any other source or previously broadcast or otherwise distributed or disseminated in any media or format, (iii) not in the public domain, and (iv) not in violation of or conflict with the trademark, copyright, rights of privacy, rights of publicity or any other rights, of any kind or nature, of any other person or entity. ENTRANT AGREES TO INDEMNIFY, DEFEND, AND HOLD HARMLESS SPONSOR, THE COMPETITION ENTITIES, FACEBOOK, TWITTER, YOUTUBE AND ANY THIRD PARTIES AFFILIATED OR ASSOCIATED WITH THE DEVELOPMENT AND EXECUTION OF THIS COMPETITION, FROM ANY AND ALL CLAIMS, DAMAGES AND LIABILITIES ASSERTED AGAINST THE SPONSOR, THE COMPETITION ENTITIES, AND THE THRD PARTIES BY REASON OF ENTRANT'S PARTICIPATION IN THIS COMPETITION, INCLUDING WITHOUT LIMITATION (A) ANY BREACH OF THE ABOVE REPRESENTATIONS (B) CLAIMS FOR INJURY, LOSS OR DAMAGE OF ANY KIND RESULTING FROM PARTICIPATION IN THIS COMPETITION OR ACCEPTANCE, USE OR LOSS OF ANY PRIZE AND (C) CLAIMS BASED ON RIGHTS OF PRIVACY, RIGHTS OF PUBLICITY, FALSE LIGHT, DEFAMATION, COPYRIGHT AND/OR TRADEMARK INFRINGEMENT RELATING TO THE SUBMISSION OR EXPLOITATION OF THE ENTRANT'S CONCEPT.
10. LIMITATION OF LIABILITY: Sponsor, the Competition Entities, Facebook, Twitter, YouTube and any third parties associated or affiliated with the development and execution of this Competition are not responsible for problems downloading or uploading of any Competition-related information to or from the web site or for any other technical malfunctions of electronic equipment, computer on-line systems, servers, or providers, computer hardware or software failures, phone lines, failure of any electronic mail entry to be received by Sponsor on account of technical problems, traffic, congestion on the internet or the web site, or any other technical problems related to web site entries including telecommunication miscommunication or failure, and failed, lost, delayed, incomplete, garbled or misdirected communications which may limit an entrant's ability to participate in this Competition.
EXCEPT FOR RESIDENTS OF FRANCE, GERMANY, AND THE UNITED KINGDOM, WITH RESPECT TO CLAIMS RESULTING FORM DEATH OR PERSONAL INJURY (IN ACCORDANCE WITH APPLICABLE LAW IN THOSE JURISDICTIONS) ENTRANT HEREBY RELEASES SPONSOR, THE COMPETITION ENTITIES FACEBOOK, TWITTER, YOUTUBE AND ANY OTHER THIRD PARTIES AFFILIATED OR ASSOCIATED WITH THE DEVELOPMENT AND EXECUTION OF THIS COMPETITION FROM ANY AND ALL CLAIMS DAMAGES, LIABILITIES AND ACTIONS ("CLAIMS") WHICH MAY BE CAUSED, DIRECTLY OR INDIRECTLY, IN WHOLE OR IN PART, FROM ENTRANT'S PARTICIPATION IN THE COMPETITION, INCLUDING WITHOUT LIMITATION CLAIMS ARISING FROM: (I) TECHNICAL FAILURES OF ANY KIND, INCLUDING BUT NOT LIMITED TO THE MALFUNCTIONING OF ANY COMPUTER, CABLE, NETWORK, HARDWARE OR SOFTWARE; (II) THE UNAVAILABILITY OR INACCESSIBILITY OF ANY TRANSMISSIONS OR TELEPHONE OR INTERNET SERVICE; (III) UNAUTHORIZED HUMAN INTERVENTION IN ANY PART OF THE ENTRY PROCESS OR THE COMPETITION; (IV) ELECTRONIC OR HUMAN ERROR WHICH MAY OCCUR IN THE ADMINISTRATION OF THE COMPETITION OR THE PROCESSING OF ENTRIES; (V) ANY INJURY OR DAMAGE TO PERSONS OR PROPERTY, INCLUDING BUT NOT LIMITED TO ENTRANT'S COMPUTER, HARDWARE OR SOFTWARE; (VI) RIGHTS OF PRIVACY, RIGHTS OF PUBLICITY, FALSE LIGHT, DEFAMATION, COPYRIGHT AND/OR TRADEMARK INFRINGEMENT RELATED TO ENTRANT'S SUBMISSION; AND (VII) ENTRANT'S ACCEPTANCE, USE OR LOSS OF ANY PRIZE. SOME JURISDICTIONS DO NOT ALLOW THE LIMITATION OR EXCLUSION OF LIABILITY FOR INCIDENTAL OR CONSEQUENTIAL DAMAGES; THEREFORE THE ABOVE LIMITATIONS OR EXCLUSIONS MAY NOT APPLY TO ENTRANT IN WHOLE OR IN PART. FOR RESIDENTS OF GERMANY: THIS RELEASE DOES NOT APPLY TO CLAIMS AGAINST SPONSOR, ITS REPRESENTATIVES AND ITS VICARIOUS AGENTS FOR DAMAGES BECAUSE OF PERSONAL INJURY OR DEATH, AND TO CLAIMS FOR DAMAGES IN CASE OF INTENT OR GROSS NEGLIGENCE BY SPONSOR, ITS REPRESENTATIVES OR VICARIOUS AGENTS.
11. PUBLICITY RELEASE/ ASSIGNMENT OF RIGHTS: Acceptance of any Prize constitutes Prize winner's permission for the Entities and use Prize winner's entry materials, including video, name, photograph, likeness, voice, biographical information, statements and complete address (collectively, the "Attributes"), for advertising and/or publicity purposes worldwide and in all forms of media now known or hereafter devised, in perpetuity, without further compensation or authorization, and releases the Competition Entities from all claims arising out of the use of such Attributes.
All materials submitted to Sponsor shall become the sole property of Sponsor and will not be returned or acknowledged. As consideration for entering and participating in the Competition, Entrant agrees that Entrant shall relinquish any and all rights to the materials that Entrant submits. Submission of an entry grants the Sponsor and its agents the right to record, copy, publish, use, edit, exhibit, distribute, perform, merchandise, license, sublicense, adapt and/or modify such entry in any way, in any and all media, without limitation and without any compensation to the Entrant. Submission of an entry further constitutes the Entrant's consent to irrevocably assign and transfer to Sponsor any and all rights, title and interest in the entry, including, without limitation, all copyrights.
12. ENTRANT'S PERSONAL INFORMATION: Sponsor collects and processes Entrants' personal data to allow their participation in the Competition and to send Prize(s) to Winner(s). The processing of Entrants' personal data is necessary to perform the contract they have entered into with Sponsor by accepting the Official Rules. Entrants' personal data will be accessible by Sponsor, its affiliates and sub-processors, and will be stored until the end of the Competition. When Entrants consent, their data may also be used for other purposes outside of the strict organization of the Competition and will be stored as long as Entrants agree to such uses. Sponsor may transfer Entrants' personal data to non-European countries that ensure an adequate level of protection according to the EU Commission or within the framework of the standard data protection clauses adopted by the EU Commission here. Entrants can withdraw their consent at any time, request a copy, the deletion or rectification of their data, object to or request the restriction of their processing, and/or receive their information in portable form by contacting Sponsor's data protection officers here. After contacting Sponsor's data protection officers, if Entrants are not satisfied with the way Sponsor handled their request, Entrants may address a complaint to the regulatory authority of their country.
13. DISQUALIFICATION: Entrant agrees that Entrant shall not submit an Entry that contains (i) disparaging or obscene language, photographs or film (ii) nudity (iii) trademarks, copyrights and/or logos not belonging to Entrant and/or (iv) language, photos or film that is injurious to a third party and/or may damage a third party's reputation. Entrant acknowledges that Sponsor expressly conditions its acceptance of Entrant's submission on Entrant's agreement of the preceding sentence, and if it is discovered that Entrant has violated such agreement, Sponsor reserves the right to disqualify Entrant's submission.
Entries made on another's behalf by any other individuals or any other entity, including but not limited to commercial Competition subscription notification and/or entering services, will be declared invalid and disqualified for this Competition. Any entries deemed by Sponsor, in its sole discretion, to have been submitted in this manner will be void. In the event a dispute regarding the identity of the individual who actually submitted an entry cannot be resolved to Sponsor's satisfaction, the affected entry will be deemed ineligible
Sponsor reserves the right in its sole discretion to disqualify any individual who is found to be tampering with the entry process or the operation of the Competition, to be acting in violation of these Official Rules, or to be acting in an unsportsman-like or disruptive manner, or with the intent to disrupt or undermine the legitimate operation of the Competition, or to annoy, abuse, threaten or harass any other person, and Sponsor reserves the right to seek damages and other remedies from any such person to the fullest extent permitted by law. No incomplete, forged, software-generated or other automated multiple entries will be accepted.
14. CANCELLATION: Sponsor reserves the right to cancel or modify the Competition if fraud or technical failures destroy the integrity of the Competition as determined by the Sponsor, in its sole discretion, and to award the Prizes based on eligible entries received prior to the cancellation.
15. DISPUTES: Except where prohibited, Entrant agrees that: (1) any and all disputes, claims and causes of action arising out of or connected with this Competition or any Prize awarded shall be resolved individually, without resort to any form of class action, and that by participating in the Competition, Entrant agrees that Netherlands will be the exclusive forum for any formal dispute resolution; (2) any and all claims, judgments and awards shall be limited to actual out-of-pocket costs incurred, including costs associated with entering this Competition, but in no event attorneys' fees; and (3) unless otherwise prohibited, under no circumstances will Entrant be permitted to obtain awards for, and Entrant hereby waives all rights to claim, indirect, punitive, incidental and consequential damages and any other damages, other than for actual out-of-pocket expenses, and any and all rights to have damages multiplied or otherwise increased. All issues and questions concerning the construction, validity, interpretation and enforceability of these Official Rules, or the rights and obligations of the Entrant and Sponsor in connection with the Competition shall be governed by, and construed in accordance with, the laws of Netherlands, without giving effect to any choice of law or conflict of law rules which would cause the application of the laws of any jurisdiction other than Netherlands.
16. OFFICIAL RULES, WINNERS LIST: A copy of the Official Rules may be downloaded from this page for the duration of the Competition. A Winners List link will NOT be available.
17. ADDITIONAL TERMS: © 2020 Ubisoft Entertainment. All Rights Reserved. Assassin's Creed, Ubisoft and the Ubisoft logo are registered or unregistered trademarks of Ubisoft Entertainment in the U.S. and/or other countries.The use of any Prize manufacturer or venue, name or trademark in connection with any of the Prizes is solely for the purpose of describing such Prize, and is not intended to suggest any affiliation or sponsorship.
The invalidity or unenforceability of any provision of these rules shall not affect the validity or enforceability of any other provision. In the event that any provision is determined to be invalid or otherwise unenforceable or illegal, these rules shall otherwise remain in effect and shall be construed in accordance with their terms as if the invalid or illegal provision were not contained herein.
THIS COMPETITION IS IN NO WAY SPONSORED, ENDORSED OR ADMINISTERED BY, OR ASSOCIATED WITH, FACEBOOK, TWITTER, YOUTUBE OR ANY OTHER SOCIAL MEDIA PLATFORM. YOU ARE PROVIDING YOUR INFORMATION TO UBISOFT NEDERLAND AND NOT TO FACEBOOK, TWITTER, YOUTUBE OR ANY OTHER SOCIAL MEDIA PLATFORM.
Nothing in these Official Rules shall be deemed to exclude or restrict any of the winner's or the entrant's statutory rights as a consumer.