*Year 1 Season Pass holders who purchase the Year 2 Pass will receive a bonus 600 R6 Credits*
With Tom Clancy's Rainbow Six Siege Year 2 Pass you get access to a one-year** VIP premium membership which includes:
YEAR 2 OPERATORS AND BONUS DLC
8 new Year 2 operators across 4 seasons
8 exclusive headgear customizations
8 exclusive uniform customizations
R6 Carbon charm
600 R6 Credits to purchase in-game content
VIP PERKS
7-day early access to each season's new Operators.
10% discount in in-game shop
5% Renown boost to unlock in-game content faster
2 extra daily challenges
**VIP Premium Membership service until February 7, 2018
Get Prepared for Year 2 of Rainbow Six Siege
In Year 2, Team Rainbow will be deployed to Spain, Hong Kong, Poland, and South Korea. Four new maps will be introduced in these countries, with 8 new Operators from brand new CTU's. As you can see in the road map below, Year 2 follows a similar format having four seasons with one free map and two Operators releasing each season.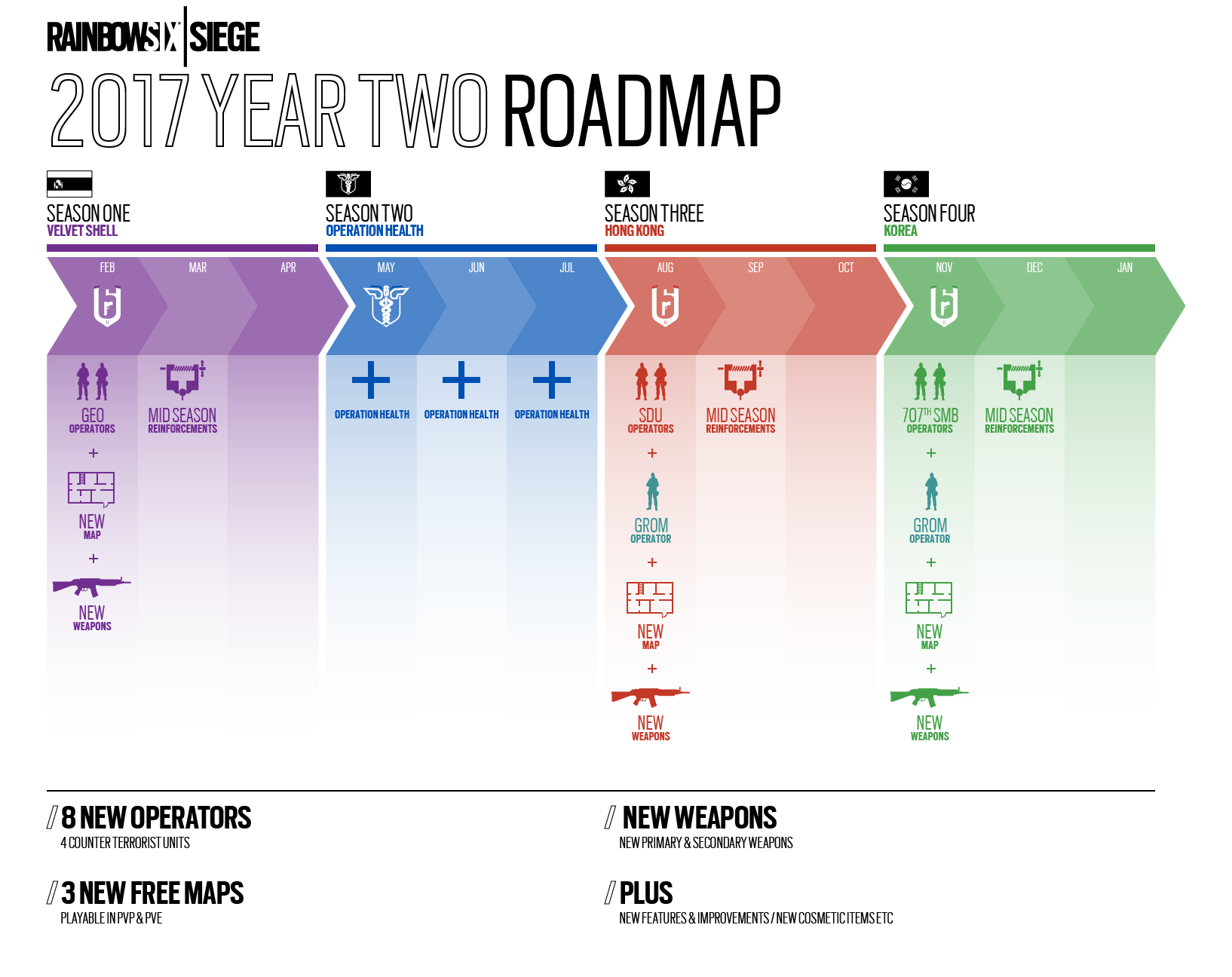 If you missed out on the original Season Pass, you can now unlock all 8 of the original Year 1 Operators in-game with the new Legacy Operator Bundle. This bundle instantly unlocks Buck, Frost, Blackbeard, Valkyrie, Capitao, Caveira, Echo, and Hibana. Find the Legacy Operator Bundle available now at the in-game shop for 2400 R6 Credits.
Tom Clancy's Rainbow Six Siege is mandatory to play the game (sold separately) to work
©2016 Ubisoft Entertainment. All Rights Reserved. Tom Clancy's, Rainbow Six, The Soldier Icon, Ubisoft and the Ubisoft logo are trademarks of Ubisoft Entertainment in the U.S. and/or other countries.