Assassin's Creed Odyssey - Kassandra Tank Top
Images
Product Description
Product Description:
Who runs the Greek world? Kassandra! Fulfill your destiny in style. Show your foes you're as fearless as our favorite hero with the official Assassin's Creed Odyssey Tank top, designed by Ubi Workshop. Artistic Kassandra design on the front and game crest on the back.
If you liked the Assassin's Creed Odyssey Kassandra Tank top, click here to shop the rest of the official Assassin's Creed Odyssey collection.
Product Features:
Designed by Ubi Workshop and the Assassin's Creed team
Body color: Black
Crest print at back
Material: 60% cotton, 40% polyester
Sizes XS-S-M-L-XL-2XL
| Size | 1. Chest | 2. Sleeve | 3. Length | 4. Hips |
| --- | --- | --- | --- | --- |
| XS | 14" | 35.5 cm | | 27" | 68,5 cm | |
| S | 15" | 38 cm | | 27 ½" | 70 cm | |
| M | 16" | 40.5 cm | | 28" | 71 cm | |
| L | 17" | 43 cm | | 28 ½" | 72,5 cm | |
| XL | 18" | 45.5 cm | | 29" | 73.5 cm | |
| 2XL | 19" | 48 cm | | 29½" | 75 cm | |
Find the Right Size:
We invite you to read this guideline carefully but in any case, if you need assistance, do not hesitate to contact our friendly customer support.
First, all our products are like you: Unique. It means, it's not because you've already bought a size for a T-Shirt that it's exactly the same size for a hoodie. We always recommend you to double-check our size charts before pressing the "Complete my Order" button. So, in order to take your measurements, you will need a tape measure and ideally, another person to help you.
You don't have anyone to take your measurements? Well… You will need a little patience and/or great flexibility (Yoga works well or circus training), so it's not impossible to do it yourself!
Measuring Instructions:
It's time for action! Take (or create) your flexible tape measure, follow the instructions below and refer to the chart: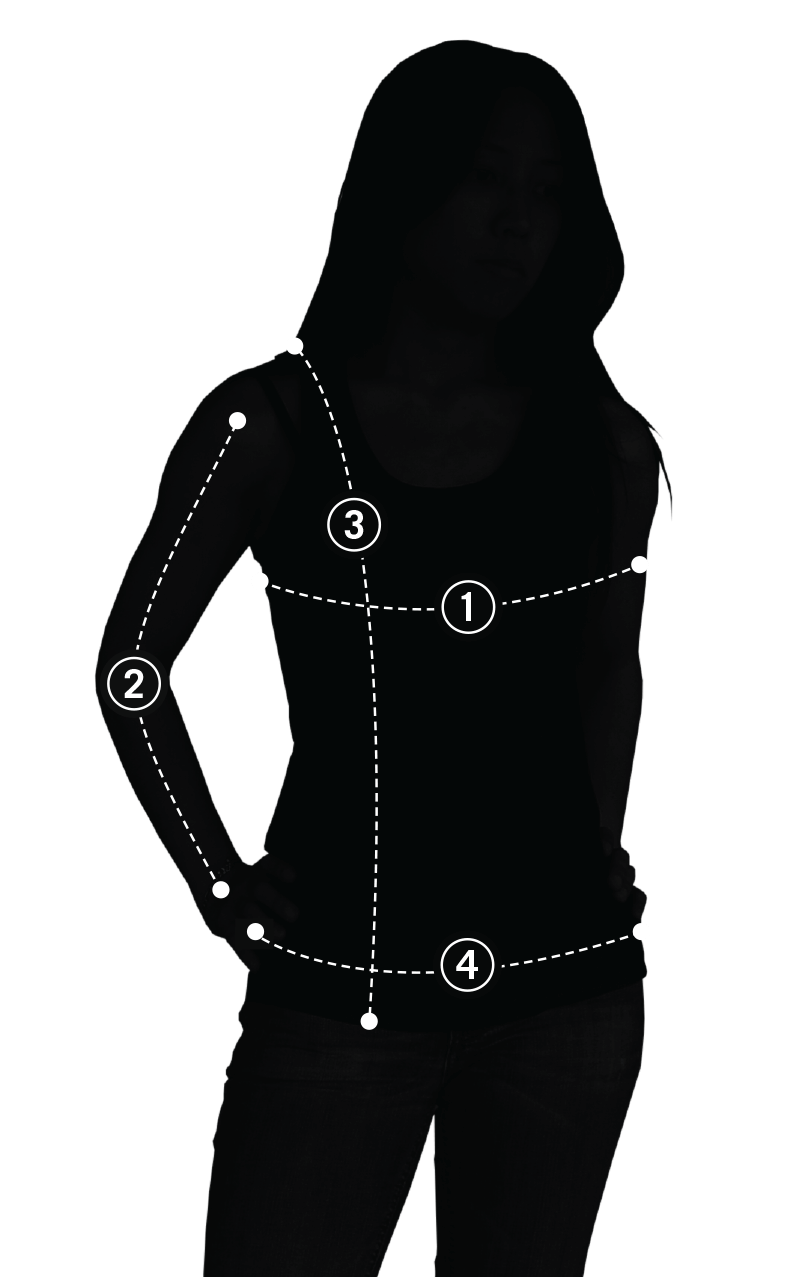 1

Chest

Measure just under your arms around the fullest part of the chest and shoulder blades. Divide per 2 this measure to match with our size chart.
2

Sleeve

Make an angle with your arm by placing your hand on your hip. Use the flexible tape to measure from the end of your shoulder and down around your elbow to your wrist.
3

Front Length

Measure from the higher shoulder point until your hip.
4

Waist

Measure around your natural waistline, keeping the tape comfortably loose. Divide per 2 this measure to match with our size chart.

Now that you have your measurements, you just need to compare them with our size chart above and choose the right size for yourself. If you are between two sizes, we recommend to select the larger size.
Oh no! What if it doesn't fit?
Don't worry! You can return your product within 45 days for free. Please consult our returns policy for more information.
You may also Like