Far Cry 5 - Newton Inc. Metal Plate Poster
Release : March, 27th 2018
Details
https://store.ubi.com/us/far-cry-5-fish-poster/5a6b390fef3aa57373dd92c2.html?lang=en_US
Product Details:
Ubi Workshop creation
Ubisoft Store exclusive
Poster dimensions: 18" x 11.76"
Made of iron
Limited edition of 200 units
Each poster comes numbered
Includes certificate of authenticity
Packed in a replica Hope County Chronicles newspaper (hint, complete the crossword for a surprise reward!)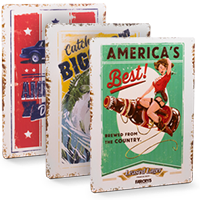 SPECIAL OFFER:
Get a 15$ off on your order by purchasing the complete Far Cry 5 Metal Plate Posters Collection
Images
Product Description
Description:
Need a break from fighting against The Project? No problem! Find yourself a nice quiet creek and try some fishing, but make sure you use the right equipment from Newton Inc. They'll help you catch the biggest fish, like the rustic metal poster says.
Made of tin, this collectible poster is limited edition and comes numbered, with a certificate of authenticity, and packed in replica Hope County Chronicles newspaper.
Complete the collection and shop the American Dream Metal Poster and Leased Lager Metal Poster today!
You may also Like