Ghost Recon Wildlands - Reversible Hoodie
Images
Product Description
Description :
"Some are soldiers, we are ghosts"
The official Tom Clancy's Ghost Recon Wildlands Hoodie is designed by Ubi Workshop to give you the opportunity to become an everyday soldier.
With this reversible and unique style, the Ghost Recon Hoodie can be adapted for every situation. It comes with interchangeable Velcro patches that can be worn on the chest, which allows you to change the name of your favorite soldier. On the arms, the official Ghost symbol and the zipped pocket will make you feel like you are part of the game in your everyday life.
Game description
Bolivia, a few years in the future. This beautiful South American country has become the biggest producer of cocaine in the world.
The Santa Blanca cartel, which has turned the country into a narco-state, is on the brink of becoming a mafia-run superpower and already a worldwide threat.
Open warfare is not the answer - only a discreet, carefully-planned, deadly approach can stop this evil at its base. Ghost unit, the legendary team of US Special Forces, has been sent into enemy territory to break the alliance between the cartel and the corrupt government. They will have to overcome moral dilemmas and face difficult combat situations in order to succeed in their mission…
© 2016 Ubisoft Entertainment. All Rights Reserved. Tom Clancy's, Ghost Recon, the Soldier Icon, Ubisoft, and the Ubisoft logo are trademarks of Ubisoft Entertainment in the US and/or other countries.
Product Details
Official Ghost Recon reversible hoodie - Unisex
Color : Warm grey mix and army print
1 velcro patch at chest
4 patches with the names of the operators included
Ghost Recon patch and zipped pocket on sleeve
| Talla | 1. Chest | 2. Sleeve | 3. Length | 4. Hips |
| --- | --- | --- | --- | --- |
| XS | 18" | 46 cm | 25" | 65 cm | 27" | 67 cm | 17 ½" | 44 cm |
| S | 19" | 48,5 cm | 26" | 66 cm | 27" | 68,5 cm | 18 ½" | 47 cm |
| M | 20" | 51 cm | 26" | 67 cm | 27" | 70 cm | 19 ½" | 50 cm |
| L | 21" | 54 cm | 26 ½" | 68,5 cm | 28" | 71 cm | 21" | 53 cm |
| XL | 23 " | 58 cm | 27" | 70 cm | 29" | 74 cm | 22 " | 56 cm |
| 2XL | 24" | 63cm | 27 ½" | 71 cm | 30" | 76 cm | 24 " | 61 cm |
Find the Right Size:
We invite you to read this guideline carefully but in any case, if you need assistance, do not hesitate to contact our friendly customer support.
First, all our products are like you: Unique. It means, it's not because you've already bought a size for a T-Shirt that it's exactly the same size for a hoodie. We always recommend you to double-check our size charts before pressing the "Complete my Order" button. So, in order to take your measurements, you will need a tape measure and ideally, another person to help you.
You don't have anyone to take your measurements? Well… You will need a little patience and/or great flexibility (Yoga works well or circus training), so it's not impossible to do it yourself!
Measuring Instructions:
It's time for action! Take (or create) your flexible tape measure, follow the instructions below and refer to the chart: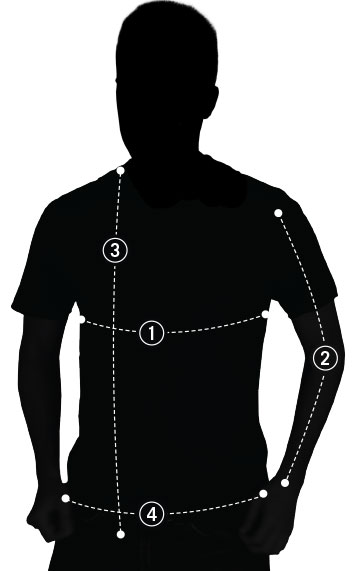 1

Chest

Measure just under your arms around the fullest part of the chest and shoulder blades. Divide per 2 this measure to match with our size chart.
2

Sleeve

Make an angle with your arm by placing your hand on your hip. Use the flexible tape to measure from the end of your shoulder and down around your elbow to your wrist.
3

Front Length

Measure from the higher shoulder point until your hip.
4

Waist

Measure around your natural waistline, keeping the tape comfortably loose. Divide per 2 this measure to match with our size chart.

Now that you have your measurements, you just need to compare them with our size chart above and choose the right size for yourself. If you are between two sizes, we recommend to select the larger size.
Oh no! What if it doesn't fit?
Don't worry! You can return your product within 45 days for free. Please consult our returns policy for more information.
You may also Like